DIU Green Campus is a movement, the first of its kind in Bangladesh, which was launched in 2002 by Daffodil International University (DIU). The initiatives of this movement are helping to shape our university as a model environmental community where academic programs and environmentally responsible behavior by all stakeholders go hand in hand. This movement aims to promote eco-friendly 'green projects' in order to ensure a greener, cleaner, safer and healthier campus for us to work and live in.
The aim of the Strategic Plan of DIU is to further enhance its reputation as a 'green university'. DIU Green Campus initiatives are volunteer led, research informed and practice focused. We encourage our students, staff and faculty to work towards a pollution-free, carbon-neutral, eco-sustainable, and 'go-green' pioneer university campus.
Purpose:
DIU Green Campus aspires to take the lead in revisiting the reasons for contemporary environmental crises, to rethink how we can improve our environmental culture through newly developed paradigms to tackle burning environmental issues locally, nationally and globally.
This Green Campus movement also aims to involve students and faculty in teaming up to transform their innovative ideas into scientific research, so that they can contribute not only to knowledge and education but also to positive and productive changes in our lives in general.
Caring for the environment, creativity in living with our environment, customizing our lifestyles to support the environment for continuity, conservation and sustainability are some of the tenets of the DIU Green Campus movement.
DIU Green Campus Projects:
Forestation of local roads
Eco-friendly design and development of buildings and infrastructure preserving its flora and fauna
Tree plantation (traffic islands, planned forestry & gardening, etc.)
Biogas plant
Beautification
Vegetation
Use of solar energy/solar car
Use of bicycles
Water conservation
Carbon management plan
Greenhouse gas reduction,
Rainwater Harvesting Plant, etc.
Rainwater Harvesting Plant:
According to a study conducted by the Institute of Water Modelling in Dhaka, the groundwater level of Bangladesh is falling at a rate of three meters per year. As the population and industry have grown, river water has also become contaminated by industrial waste. So, extracting ground water and river water are not enough to meet the demand of total water supply.

In this situation, rainwater harvesting system can be a better and sustainable solution to water supply problem and water conservation. Rainwater harvesting allows vast amounts of water to be collected while raining for using later which also helps drought effects to be mitigated. Every year, Bangladesh is blessed with rainfall of about 2200 mm, with 75% of it falling between May and September. According to the Dhaka Water Supply and Sewerage Authority (WASA), rainfall is free of arsenic poisoning and the physical, chemical, & bacteriological features of gathered rainwater make it a safe and acceptable source of drinkable water. Rainwater can be used for non-potable purposes like: flushing toilets, watering gardens, washing cars, and washing floors etc. As rainwater is typically free of dangerous pollutants, it is appropriate for irrigation purposes as well.

Daffodil International University has been putting emphasis on safeguarding the environment through practicing sustainable development in every stage since its establishment in 2002. It has set up one of the largest and greener campus in Bangladesh. DIU has also got recognition as the most sustainable university in Bangladesh for the last five consecutive years by the UI-GreenMetric World University Rankings.

Considering the above-mentioned points, Daffodil International University has already installed and implemented rainwater harvesting plant at its green campus situated at Ashulia, Savar, Dhaka as a sustainable water management practice. The capacity of rainwater harvesting tank in the Academic Building-4 is 3,01,000.00 US gallons. There are 33 nos. rainwater pipes in total which pass water directly from roof top to rainwater harvesting tank while raining. At present, the water is being mainly used for watering gardens, washing cars, swimming pool, and washing floors etc. However, DIU has planned to utilize the rainwater harvesting tank as a fire hydrants system to be used by firefighting team during any fire accident.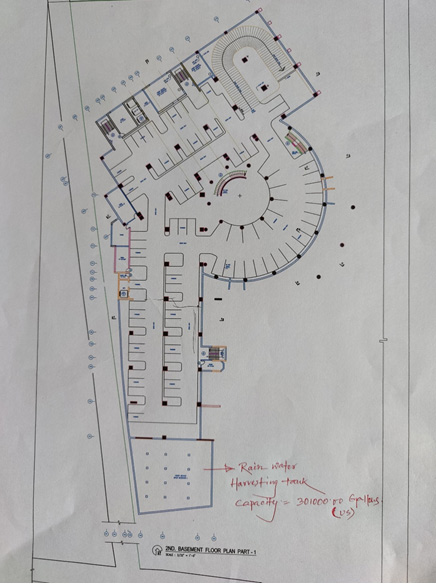 Pic: Location of Rainwater Harvesting Tank in AB-4
| | |
| --- | --- |
| | |
| Pic: Rainwater collecting pipes | Pic: Grounds man watering the field from RWHV |
Advantages of Rainwater Harvesting
The benefits of rainwater harvesting system are:
Cost efficient as it helps in reducing the water bill
It is environment-friendly
Reduces the demand for ground water
Source of pure and uncontaminated water
Washing vehicles and equipment
Simple and easy to install and use
Can be used for fire protection
Composting
Can be used in swimming pool and other water bodies
Can be used for irrigation purpose
Promotes both water and energy conservation and improves the groundwater quality and quantity
It reduces soil erosion, storm water runoff, flooding, and pollution of surface water with fertilizers, pesticides, metals and other sediments.
Recognition:
DIU has been ranked as the most sustainable university in Bangladesh since 2017 by UI-GreenMetric World University Rankings
DIU received the 'Beautification Award' in 2006 from the Honorable Prime Minister of Bangladesh.
DIU, through its green projects, generates commendable social and ecological impacts.
DIU encourages all its stake holders to do the same and this creates a chain reaction.
DIU Green Campus Ethics:
Reduce, reuse & recycle your waste!
Bin your garbage!
Turn off lights, computers, ACs and other equipment when leaving rooms.
Report leaking taps or running toilets.
Use sustainable transport where possible.
Our Action Plans:
We are not only responsive to society's needs, but we also lead by generating new knowledge and technologies in energy use, transportation, waste management and biodiversity. Through engagement with our students and staff we identify issues that need attention, use existing technologies to solve problems and generate new technologies through research which are then adopted in our operations.
Future Plan:
We continue to develop our community of stakeholders to improve on their present achievements in 'go-green' initiatives. DIU Green Campus campaign is a continuous process to address the needs of society and the environment to build a better and more sustainable world. Any interested individual or community is welcome to join us in our commitment to social responsibility.