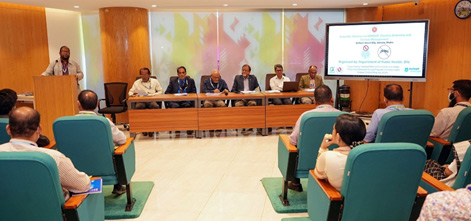 A scientific seminar on 'Dengue: Country Overview and Clinical Management' was held at Daffodil Smart City, Ashulia on 23 June 2022, organized by the Department of Public Heath, Daffodil International University (DIU) and supported by the Directorate General of Health Services (DGHS), Ministry of Health and Family Welfare. Prof. Dr. M. Lutfar Rahman, Vice Chancellor of the University was present as the Chief Guest. The Pro-Vice Chancellor Prof. Dr. S. M. Mahbub Ul Haque Majumder and Registrar Prof. Dr. Engr. A. K. M. Fazlul Hoque of DIU were also present in the seminar as special guests. The seminar was presided by Dr. ABM Alauddin Chowdhury, Head of the Department of Public Heath, DIU. The Vice-Chancellor of DIU candidly cited this type of awareness program timely which he hoped to be continued in future as part of the social responsibility. Both the special guests requested the Department of Public Health and the DGHS to organize the Dengue Sources Destruction Program as follow-up program.
Seminar's keynote speaker Prof. Dr. Kabirul Bashar, country's renowned entomologist and Professor of Jahangirnagar University, emphasized on covering, emptying and cleaning of domestic water storage containers on regular basis to combat the dengue bearing aedes mosquito.
Representatives from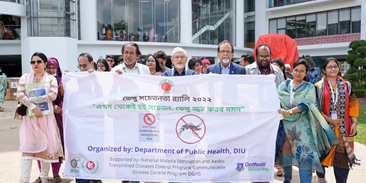 National Malaria Elimination & Aedes Transmitted Control Program, DGHS Dr. S. M. Hasan Mahmud and Dr. Md. Towhidul Hoque explored the recent scenarios of dengue cases and its deaths experienced in Dhaka city and across the country as well. After the seminar, a Dengue Awareness Rally was proceeded around the campus.