Bangladesh Police and Daffodil International University jointly organized Discussion Meeting on Anti-Militancy
Bangladesh Police and Daffodil International University jointly organized a view exchange program on 'Anti-Militancy campaign' today on August 23, 2016 at DIU Auditorium. Professor Dr. Yousuf Mahabubul Islam, Vice Chancellor, Daffodil International University presided over the program while Mr. Biplab Kumar Sarker, Deputy Commissioner, Dhaka Metropolitan Police (Tejgaon Division) was the keynote speaker of the program. Mr. Hamidul Haque Khan, Treasurer, Prof. Dr. Engineer A K M Fazalul Haque, Registrar, Mohammed Emran Hossain,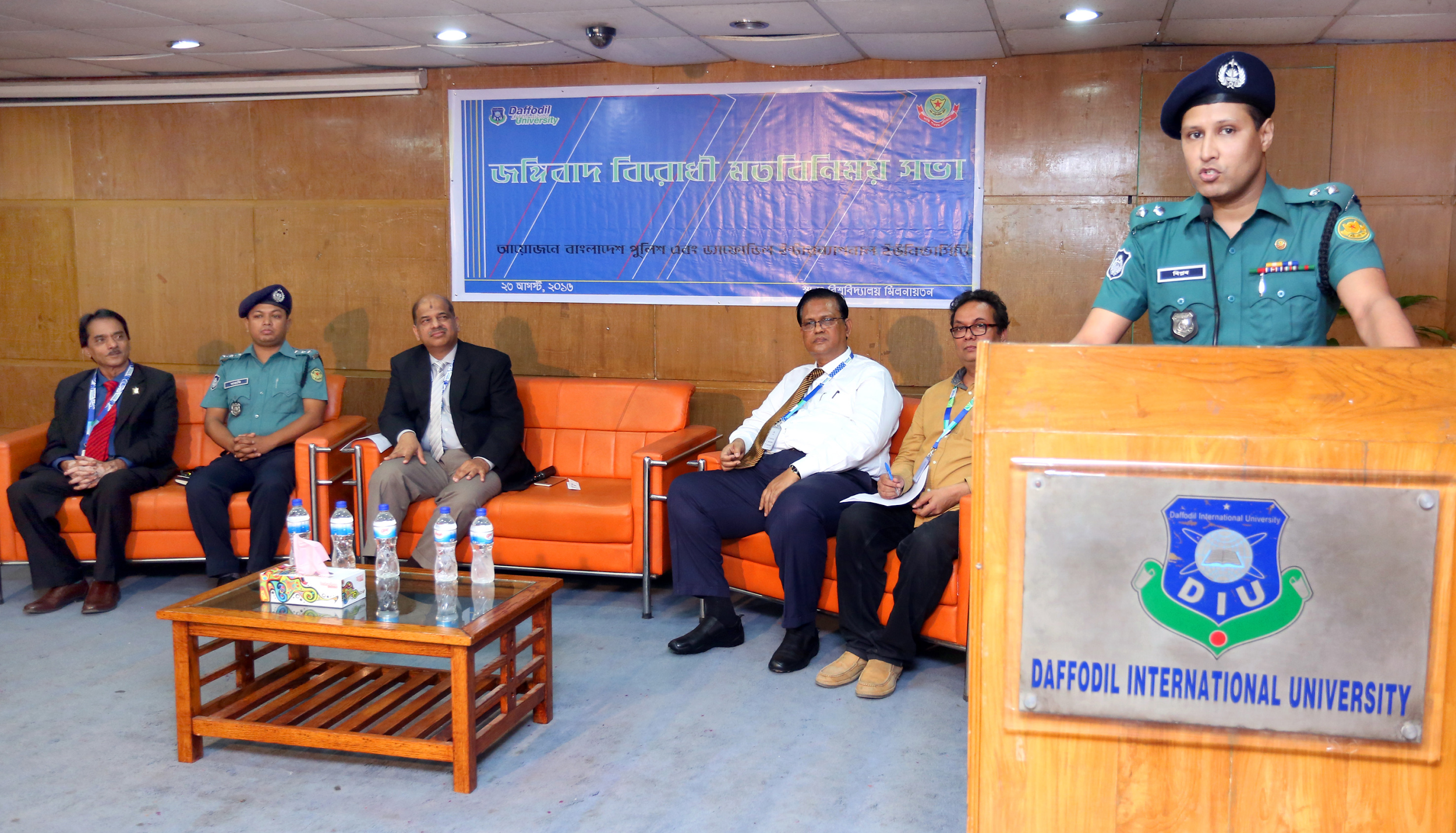 Director (Administration) of Daffodil International University and Muhammad Habibun NABI Anisur Rashid, Additional Deputy Commissioner (Tejgaon Zone), Sattayki Kabiraj Jhulon, Assistant Commissioner (Tejgaon Zone) and G G Bishwas, Officer –in Charge of Sher-e Banglanagar Thana of Dhaka Metropolitan Police. The program was moderated by Syed Mizanur Rahman Raju, Director (Student Affairs) of Daffodil International University. A large number of students and members of different clubs of the university attended the program organized by the university administration and associated by the Directorate of Student Affairs.

In the Presidential address, Vice Chancellor of Daffodil International University Prof. Dr. Yousuf M. Islam said, from the very beginning Daffodil International University playing strong role against Militancy and Terrorism and associating Government and law enforcing agencies to prevent militancy and will also extend cooperation to do everything in coming days.
Militancy is a threat to the society. So, this type of awareness program helps the young generation to get clear knowledge regarding the hazards of militancy .

Students will be motivated not to indulge with this type of acts and will put emphasis on their education. The students also got the opportunity to understand the mindset and deliberations of the law enforcing agencies . It will help reduce the militant activities as the youths become aware of the true knowledge of Islam.